The idea is fantastic, the product is terrific, the feedback from all respondents is exuberant – it's crystal clear that no one can go without your solutions. The whole world has been waiting for you. But have you ever asked the small software company or the garden tool manufacturer?
Joking aside, you've already thought about your target audience, interviewed your buyer personas and analysed the strengths and weaknesses of your value proposition. Or at least you're planning towards it.
Whether you're just double checking something, refreshing your memory or starting from scratch, our go-to-market framework provides a systematic approach to defining your target group and gives you clarity about your own arguments.
How exactly? With the go-to-market strategy toolkit, it's now easier than ever before to define, polish and put on paper a clean go-to-market strategy. Research target companies. Create an ideal customer profile. Understand pain points and the jobs to be done. Write down your value matrix once and for all. What are you waiting for?
👉 Click here to go directly to the go-to-market strategy template.
STOP! Why Do I Even Need a Go-To-Market Strategy?
We do everything we can to protect our customers from losing their cool and falling into activism. And yet we've just been doing that ourselves!
So, let's back up a bit. Why is it worth putting all the work into devising a go-to-market strategy? The following tangible reasons clearly demonstrate you why you should make devising a go-to-market strategy your number #1 priority now:
Relevant leads
Above-average conversion and click-through rates
Reduced costs per lead (CPL)
More marketing and sales qualified leads
Greater traction in your lead funnel
A growing sales pipeline
Happy days for your marketing and sales teams – as well as for management
Reason enough? Download the go-to-market strategy toolset including lots of templates here.
Before you get the ball rolling, however, it should also be clear what goals you want to pursue with your marketing measures. Striking the optimal balance in your campaigns is not only important for your marketing team; it also helps to manage expectations of stakeholders, e.g. sales or management.
Your goals could be:
Create brand awareness in the market, measured by traffic growth on your channels
Build demand for your solutions, measured by content downloads
Generate new leads, measured by the number of marketing qualified leads
Convert existing contacts, measured by the conversion rate from marketing to sales qualified leads.

Go-To-Market Strategy: The Framework Step by Step
That's all well and good, but where should I begin? What questions should I ask, what do I need to know and what information do I need and where do I get it?
Let's start together by going through this step by step.
Step 1: Identify your target market and ideal customer profile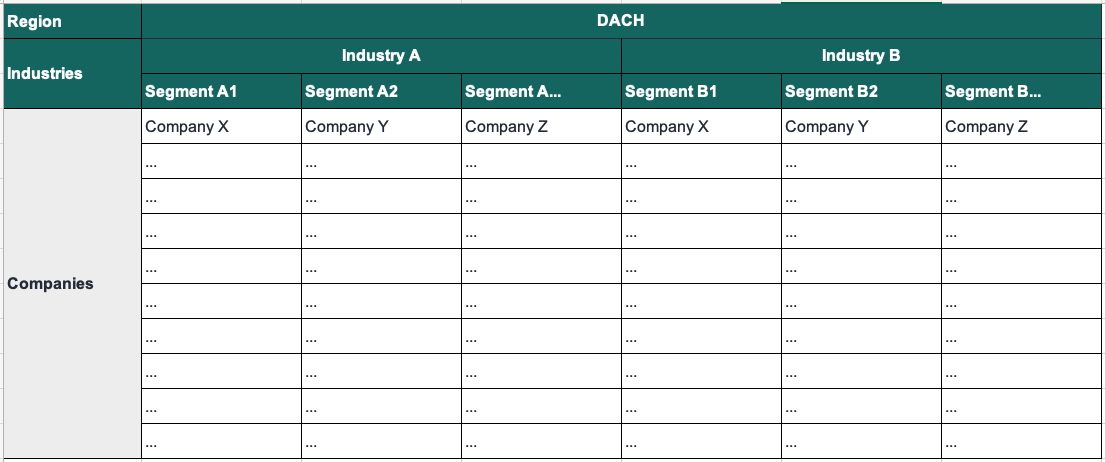 The first step is to identify your target market segments and target companies and break them down as granularly as possible. Define your buyer personas based on real customer information and create your ideal customer profile. To do this, talk to customers or people from your target industries.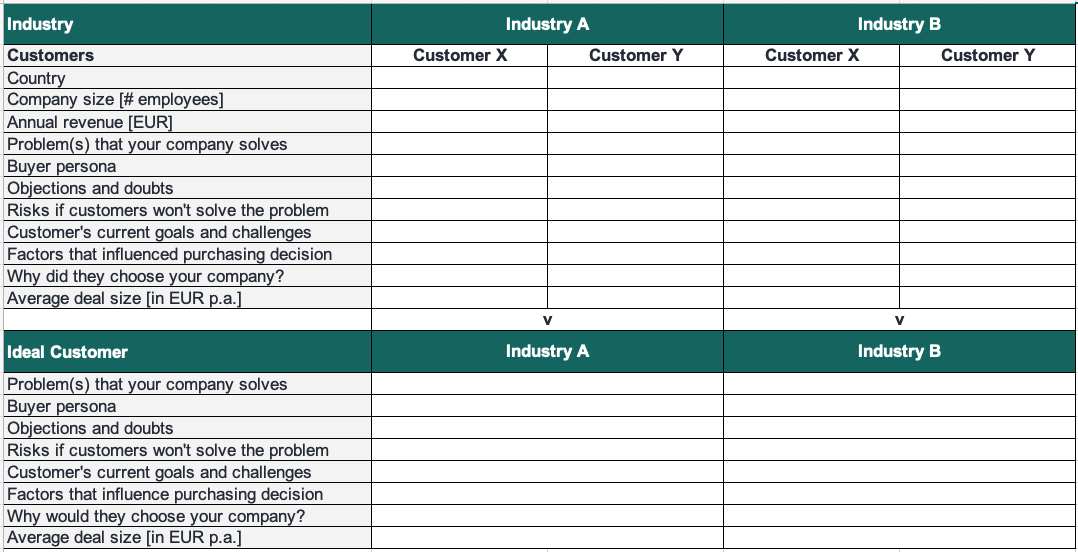 Now is the time to be as specific as possible. Your list of real target companies can later be used for account-based marketing. The attributes of your buyer personas, such as job titles, are the targeting parameters for paid social campaigns. In other words, this is not a purely theoretical exercise; you're building the foundation of your campaigns.
Tip: Be honest about the fact that not everyone needs your solution. Going after the wrong segments (or having too broad a reach) quickly becomes a waste of money and time.
Step 2: Define your value matrix

In the second step, you identify the pain points and goals of your buyer personas and define how your value proposition will impact them. Derive key messaging from this stating how you'll support your buyer personas as they seek to overcome their challenges.
This key messaging forms the basis for your content and campaign assets, such as ad copy and calls to action. That's why you should be specific and precise in this step as well.
Tip: At this point, a good old SWOT analysis can be helpful. By the way, this step provides clarity and transparency for many of our customers, far beyond the scope of their go-to-market project and marketing department.
Step 3: Outline phases of the buyer's journey

In step number three, you outline the decision-making process of your buyer personas across the three phases of the buyer's journey: awareness, consideration and decision. The better you map the phases of your different buyer personas in the organisation, the more precisely you can support them with content and communication.
Important questions include:
In which phase do your buyer personas use which channel to inform themselves?
With which information do you support your buyer personas in their decision-making process and with how much depth?
Tip: A clean go-to-market plan is the ideal roadmap to reach your personas with the right content, in the right place, and at the right time. This generates added value and enables you to better position your brand and your offering.
👉 Get the template for your go-to-market strategy – download and share with all departments.
Step 4: Plan a target group-specific content marketing strategy

In the fourth step, you create your content plan with the help of the previously developed buyer's journey. This provides the foundation for creating relevant content that reflects your value proposition while simultaneously generating value add.
Start with keyword research to ensure you understand the SEO potential. Be careful, however, as the search volume for relevant keywords is often low in B2B. So you should be realistic about SEO without overestimating the topic, but also without leaving opportunities untapped. You can find more details and a step-by-step guide in our GTM framework!

Tip: Having a go-to-market strategy is a great way to finally gather all the assumptions floating around about your target group and your offering in one place. This way, all your employees will be on the same page – literally.
Step 5: Prepare target group-oriented demand & lead generation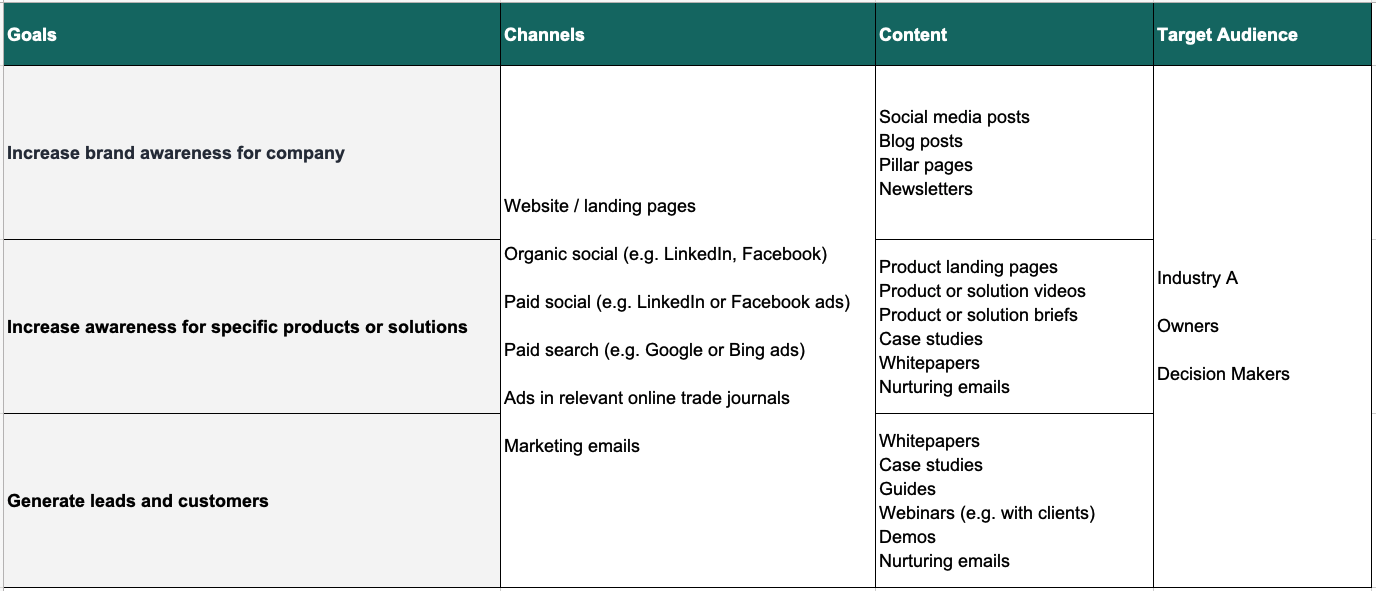 In the fifth step, you identify relevant channels for lead generation and communication with your target audience – from paid ads platforms to organic digital channels and offline touchpoints.
Tip: Are trade magazines or established industry newsletters a common source of information in your industry? Use them to pick up your buyer personas where they are!
Step 6: Create the prerequisite for marketing automation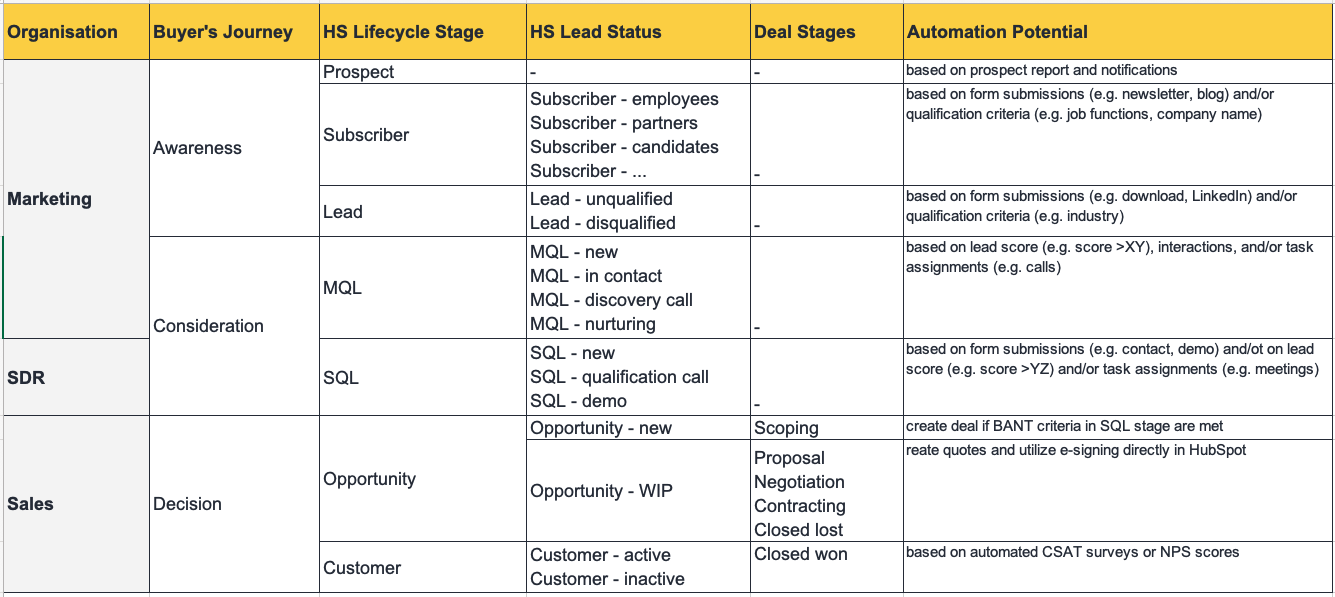 The last step leads us to the hot topic of automation. Universally celebrated for saving time and resources over the long term, automated processes should be set up cleanly. Leave nothing to chance by mapping the lead funnel in your marketing CRM system as granularly as possible. Apply automation options in a measured and well-considered manner. This way, you lay the foundation for scalable marketing.
Tip: I'm sure you're well aware by now that a bad process that is digitalised is still a bad process. However, an automated, bad process quickly becomes a disaster in marketing and sales. Get experts on board to benefit from automation instead of falling into despair.
Too Much to Do and Not Enough Time to Do It?
Digital marketers in B2B are often a one-person show. Our GTM framework toolkit minimises your workload and ensures you think of everything when developing your go-to-market strategy. Download the Go To Market Framework now!
If you want to get your hands on more inside knowledge: Make sure to check out the rest of the articles in our &weekly-blog.