With the level of greenhouse gas emissions skyrocketing and last year being the hottest year in recorded history, the severity of the climate crisis is unequivocal. Fortunately, there are people – and organisations – across the globe making great strides towards enabling a sustainable future. At the top of this list is CleanTech.
With more and more focus on sustainability, CleanTech startups have long left their niche and entered the world of mainstream business. Investment in CleanTech companies has multiplied in the last decade, reaching over $300 billion in the last year alone, giving more and more startups the chance to flourish. With this influx of importance for CleanTech grows the importance of a strong marketing strategy.
In the last decade, there's been a major shift towards prioritising content; where it used to hide in the background, 70% of marketers are now actively investing in content marketing! Therefore, when looking at creating an effective growth strategy and marketing plan, content is unmissably in the foreground.
For CleanTech businesses wanting to trigger large-scale sustainability transformations in other businesses using technological innovation, this is especially important. After all, it takes clear and meaningful communication to implement a CleanTech solution and effectively explain its benefits. CleanTech is often complex, or at the very least completely different from what your audience is used to, so a short phone call just won't cut it here.
Looking for a Case Study that showcases what we can do for your Clean Tech business? Look no further. Read here how we generated 1,600 leads for the ambitious startup Wirelane in only 4 months.
Therefore, your content needs to convey how great your value proposition is, how it works, and why your audience would be missing out on a stellar opportunity to become more sustainable if they pass it up. Your content should educate your audience about your solution and be a reliable source of information for potential leads to navigate your potentially complex technology. Because many CleanTech solutions are difficult for an outsider to make sense of, you have to make sure that your customers know what they're doing.
Your content is also how you communicate your story, your intentions, and all of your hard work that you've put into your brand. It's the defining factor of what people learn about and think of your business. You can use content to promote your credibility, commitment to a sustainable cause, and at heart, show your audience that you care.
Be explicit about how exactly your technology solution contributes to the fight against climate change. All of this falls in the job description of the content you put forward.There are a handful of hallmarks of a credible CleanTech business, and top-notch content is at the top of the list.
The Fundamentals of CleanTech Content Marketing
So what are the main things to look out for when you're crafting your CleanTech content?
Your Brand Identity
First and foremost, you need to create a cohesive brand identity.
As a CleanTech business devoted to combatting the climate crisis and creating a more sustainable world, one of the purposes of your CleanTech is to provide sustainable technology solutions to companies seeking a greener operation. Thus, your brand identity must clearly be aligned with an emphasis on sustainability.
Your content can be used to signal this connection between your software and the green cause; the layout and design of your website and the blog content you produce for example are all valuable signposts of your role in the climate movement.
Your Value Proposition
There are several advantages of using sustainable alternatives when a company is seeking a solution to a problem. However, it's important that you use your content to very clearly signpost the benefits specific to your software to your audience.
These include financial benefits – how can your product or service save them money and let them support the environment? – or operational benefits, such as using sustainable products or services doesn't require more effort from them (or may even be easier!). What features does your solution offer that make it that much more sustainable, user-friendly, and cost-effective than other market alternatives?
Many sustainable options also offer several functions for its users, so you need to clearly outline all possible applications of your solution. At the heart of every CleanTech business and the softwares they create is a drive to eliminate the climate crisis, so convince your audience that your solution is exactly the way to get there.
Your Communication Style
Be open with your audience about exactly how the clean technology solution you offer can help your customers achieve a higher sustainability status, and why that's even important in the first place.
You need to guide potential leads in all stages of the Buyer's Journey, showing them black on white how your technology will help them act sustainably every step of the way.
Offering full transparency about your startup's path, its mission, how you aim to contribute to the climate cause and more means you have nothing to hide. It also means admitting mistakes when you make them, and committing openly to fixing them. All of this boosts your credibility.
Your Commitment to Sustainability
To prove your commitment to sustainability and the availability of solutions that lead to a greener future, you also have to offer tangible evidence that your goals and your business itself are truly sustainable. This means: no empty words or promises!
Demonstrating true commitment to and knowledge of the cause will enhance your credibility as a CleanTech business and build your audience's trust for your solution. Use content to outline how you're striving to a more sustainable future, both with the solution you're offering and the operation of your business itself.
It's easy to claim you care about a cause without providing any evidence; but if you want your audience to trust that you can implement sustainable practices in their company, you have to show them that you're doing the same in yours. Prove that you know what you're doing, and why.
Your Community Approach
Finally, it has to be clear to your audience that you care about providing climate-safe alternatives for your audience and are doing your part to protect the environment.
Sustainability is an incredibly important and, for many, a highly personal cause. As a CleanTech business, you're part of an important movement towards a more sustainable world.
Be involved in the community and give your potential customers a sense of unity with your brand and your message. Genuinely contribute to the cause in any way you can and share your work with your audience!
It's all or nothing – you have to commit to CleanTech 100%.
Content marketing is already challenging, and becomes even more so with CleanTech. So here are 8 examples of CleanTech companies doing it right.
1. Efficient Energy
Technique: Communication Style & Value Proposition
Efficient Energy is a sustainable refrigeration technology business committed to creating environmentally-friendly refrigerants.
This business is particularly good at explaining, quantitatively, how their refrigeration services have an environmental component, using their website.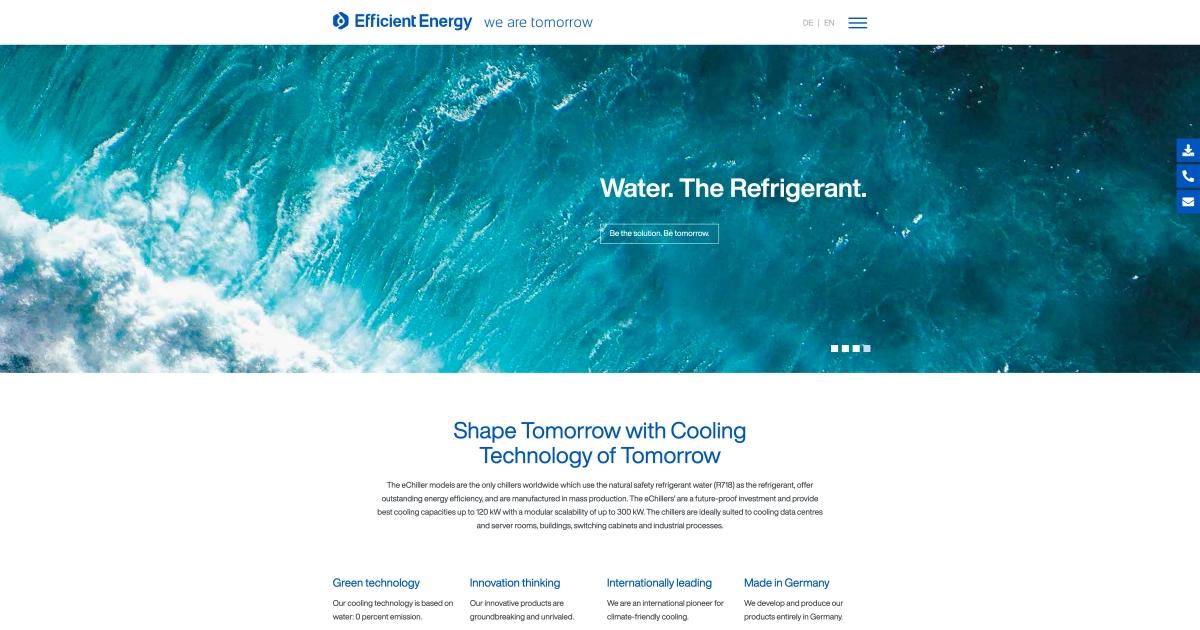 As shown clearly on their landing page, their newest model eChiller120 has up to 120kW of Cooling Power with 25% greater efficiency, up to 80% energy savings, and incredible 0% CO2 direct emissions. The model uses 100% water to generate its cooling capabilities.
Their use of numerical evidence to show how great their solution is can help non-refrigerant-experts understand what their product does better than their competitors.
Moreover, the website keeps a live tracker of exactly how many kilograms of carbon dioxide are saved by using their eChiller; a clear indication of how their product is benefiting the environment.
2. Planetly
Technique: Value Proposition
Planetly is another example of a CleanTech business showing stellar communication of the benefit(s) of their service. The technology start-up, with its "mission to help build a carbon neutral economy", aims to help other businesses implement net zero operating strategies.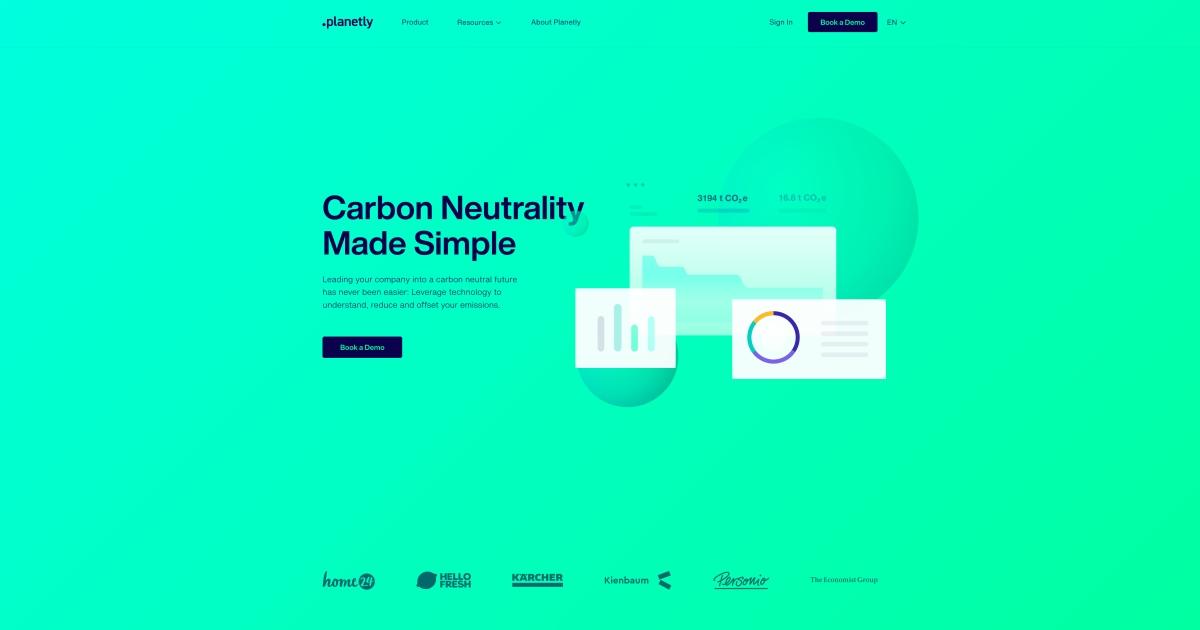 The website clearly outlines the advantage of using their services, in that reaching a zero-emissions status with them is simple and straightforward. In four steps, Planetly claims to transform a business from a climate flop to sustainable success. In this way, their website content is signposting that using their service will ont only help the environment, but also comes at no greater effort or cost to you.
3. Wirelane
Technique: Value Proposition
Wirelane is a German CleanTech startup paving the way towards easy and wide-spread e-mobility. The Munich-based company is exceptional at showing its audience exactly how their products, such as the Light and Charge, kill two birds with one stone: working towards emission-free transportation and offering easy installation for its customers.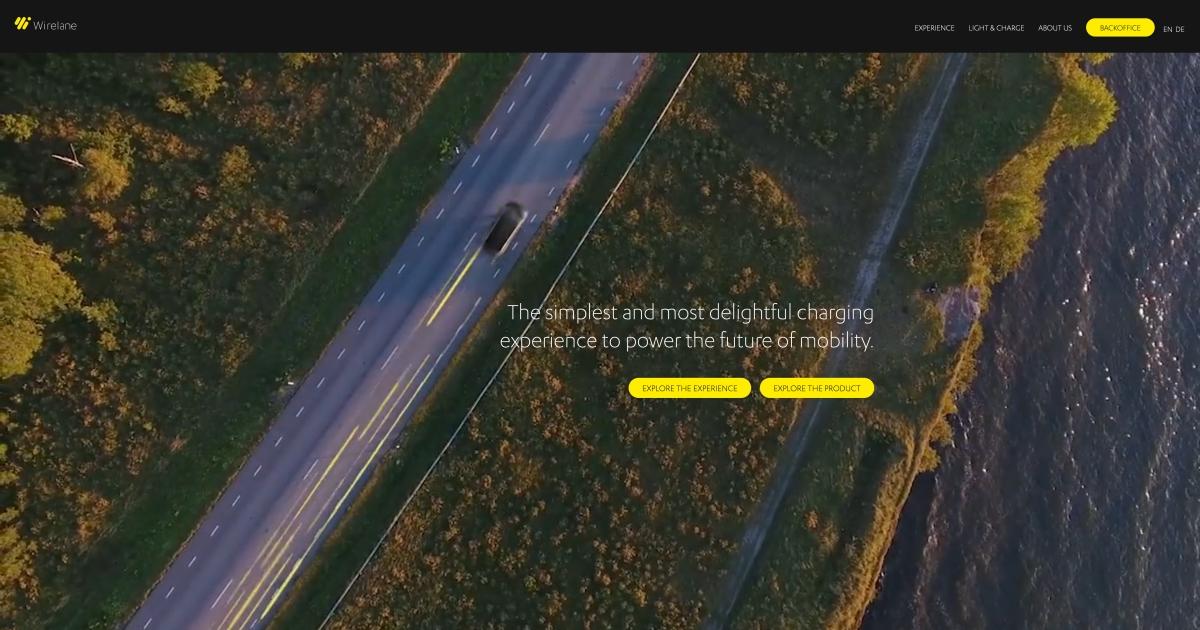 With a widespread emphasis on convenience throughout its website, Wirelane makes it especially clear that using their technology comes at no extra operational cost to you. It highlights how its technology solution is easy and risk-free, with installation, maintenance, and service included, and "seamless software integration" guaranteed via the use of a widely-compatible software.
Moreover, it alludes to the potential financial benefits of using their Light and Charge by telling you that joining the Wirelane community ensures customers to widen their customer base. Overall, a win-win!
Would you like to find out more about our collaboration with Wirelane? Check out this Case Study and learn how we generated 1.600 leads in 4 months for Wirelane.
4. Northvolt
Technique: Communication Style, Commitment & Community Approach
Northvolt is an innovative startup based in Sweden that manufactures sustainable lithium-ion batteries. It is committed to providing large-scale renewable energy storage solutions to a variety of companies, including international enterprises, such as BMW and Siemens.
With a focus on automotive, grid, industrial and portable markets, this startup's "world's greenest battery" is pushing the future of industrial work in the right direction. It offers transparency on what the battery is and how to implement battery recycling, underlining how using their product can make their audience's businesses more sustainable.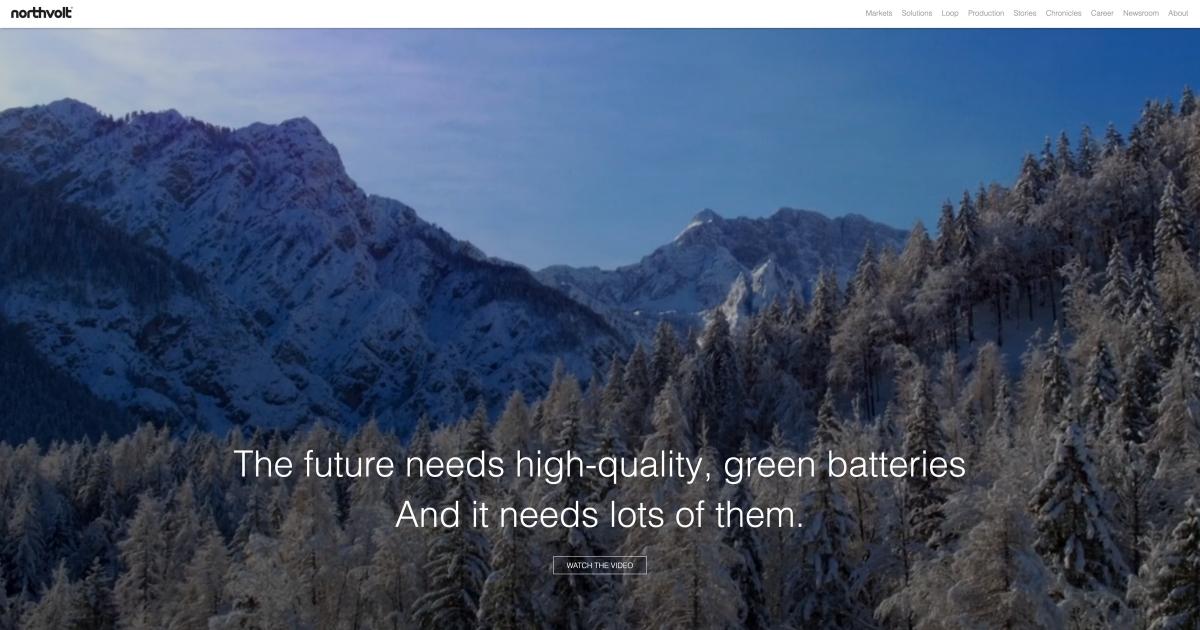 Northvolt also demonstrates stellar commitment to the cause by explicitly outlining why using their sustainable batteries (or rather, why not to use conventional batteries) is essential for the climate mission. It details why lithium, the primary component of their battery solution, is a superior metal to use. You can also read about how to reach green recovery and why Northvolt's battery is an essential step in this direction.
Finally, the startup is also an active part of the green community. It clearly emphasizes the importance of reaching sustainable production, underlines why we need to act now, and includes motivating, even uplifting, information that sustainability is possible.
5. Ducky
Technique: Communication Style & Community Approach
The Norwegian startup Ducky has made strides towards implementing sustainable lifestyles and practices from the individual all the way to the corporate level. It targets climate change by mobilising people, schools and businesses to reduce their carbon footprint and work towards a carbon sustainable future.
With carbon footprint-calculating software and digital programs that turn reducing emissions into a fun competition amongst colleagues, Ducky is successful at motivating brands to turn to sustainability, including IKEA, Yara, and NTNU.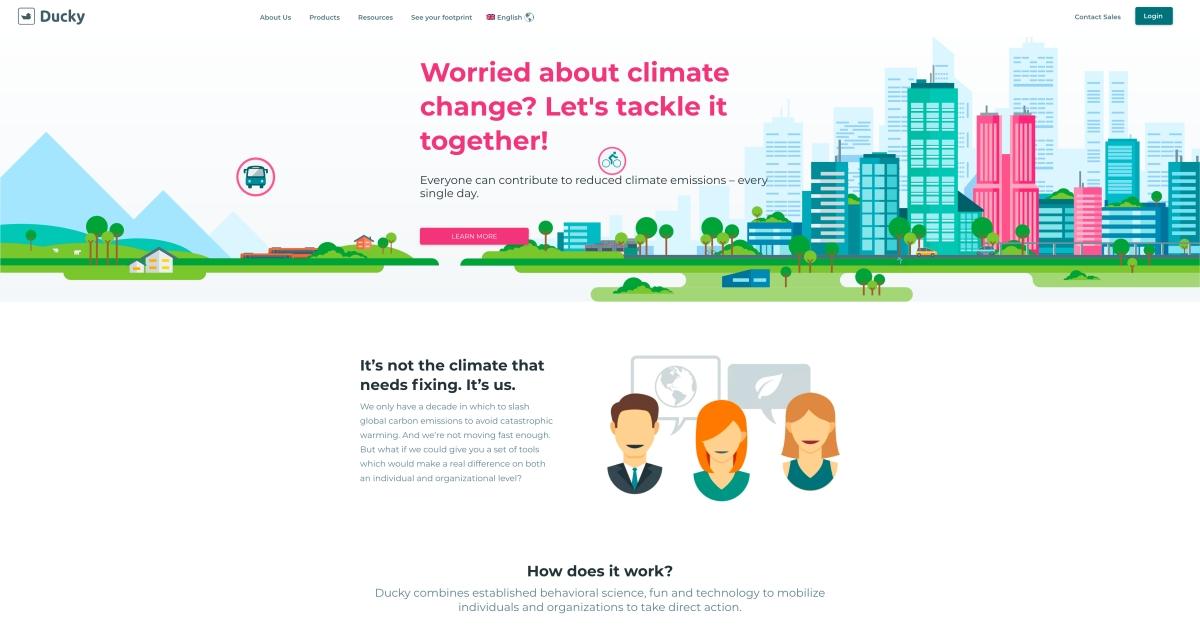 A particular bonus is how transparent it is about its impact on the sustainability movement – the startup marks its 7th birthday with a record of over 30,000 participants, 1,044,775 kilograms of carbon dioxide saved, and 1,439,880 climate activities logged.
Moreover, the very personable and friendly content detailing the members of the Ducky team and why each of them care about CleanTech makes for a welcoming, motivating atmosphere that would make anyone want to turn to sustainability.
6. Depsys
Technique: Value Proposition
Swiss-born Depsys is a startup all about renewable energy sources with the goal to "empower grid managers to evolve their operations using data insights gained from our digital technology". The company raised an incredible €11.6 million to fund its CleanTech software, including its GridEye, which allows power grid operators to optimise their distribution grid usage and make the most of large quantities of renewable energy sources.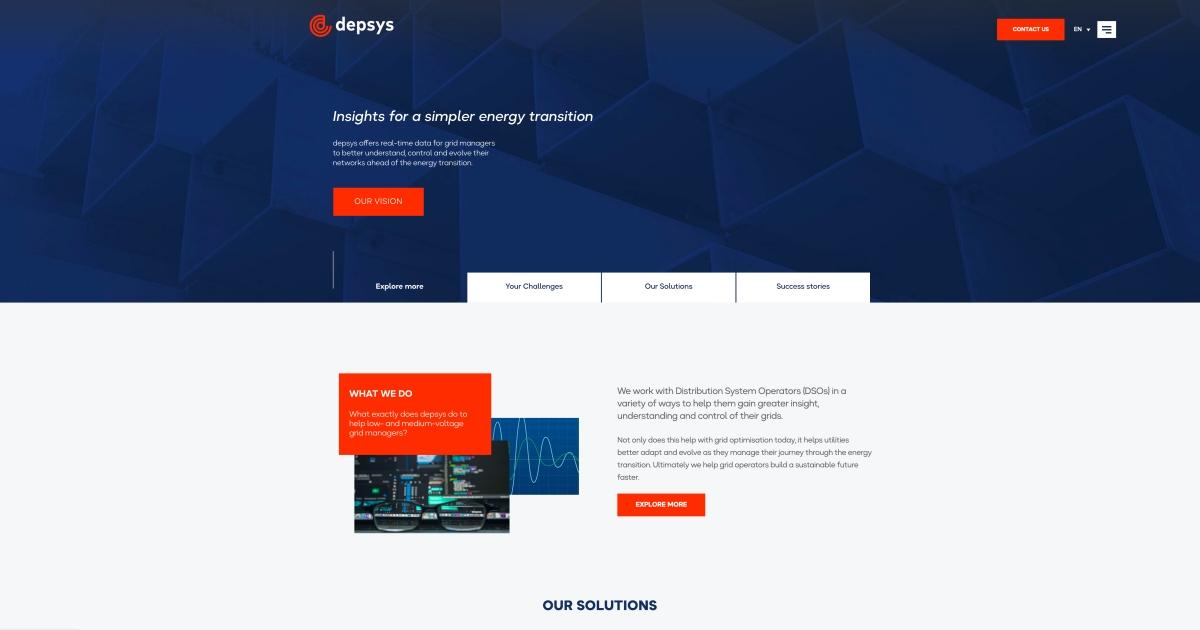 The startup's website is very catered towards listening to its audience's pain points and offering targeted solutions for them. With subsections like "Your Challenges" and "Our Solutions", Depsys clearly connects the dots about how their solutions specifically, like their GridEye, can resolve potential customers' sustainability struggles.
7. Ecoligo
Technique: Value Proposition
Ecoligo provides a platform for emerging solar projects to seek funding in support of upcoming projects that promote the use of solar energy.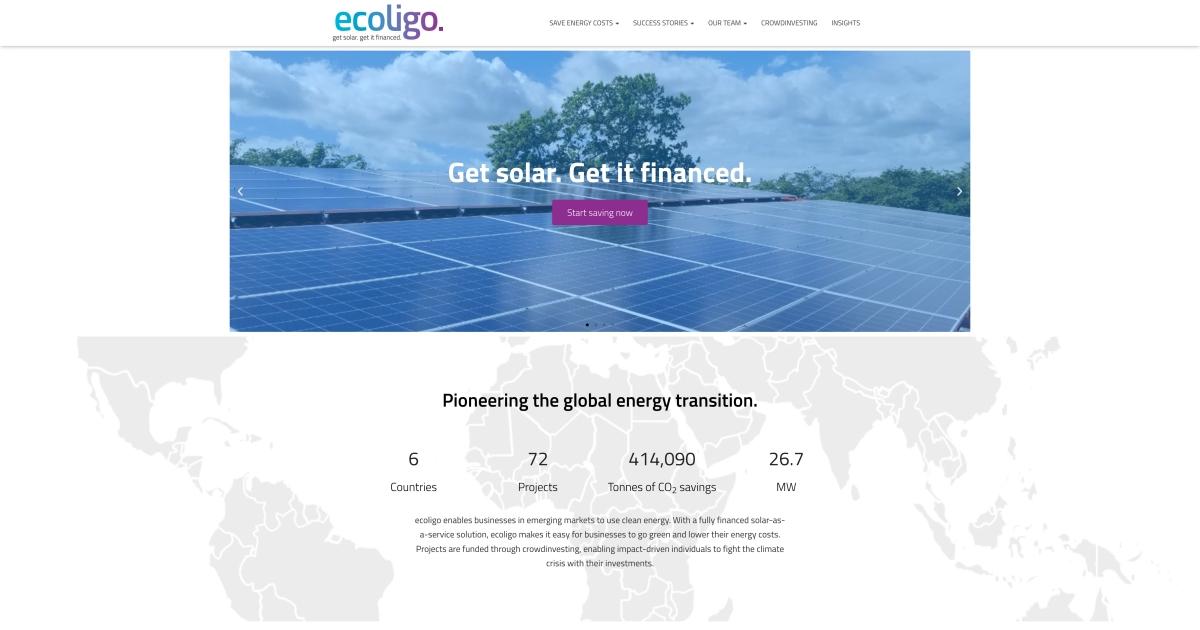 This CleanTech business clearly details the benefits of using their platform, encouraging visitors that they can achieve financial freedom by using Ecoligo. It also uses the headline "save energy costs" to further drive home that their platform has real financial advantages for its users.
8. Solytic
Technique: Value Proposition & Communication Style
Finally, Solytic, a Berlin-born startup, is all about solar power. It does a fantastic job at outlining exactly how their photovoltaic (PV) monitoring system comes with a financial benefit for you, stating clearly on its website that the technology brings with it less risk and lower costs with maximum performance. In essence, you're getting a real bang for your buck.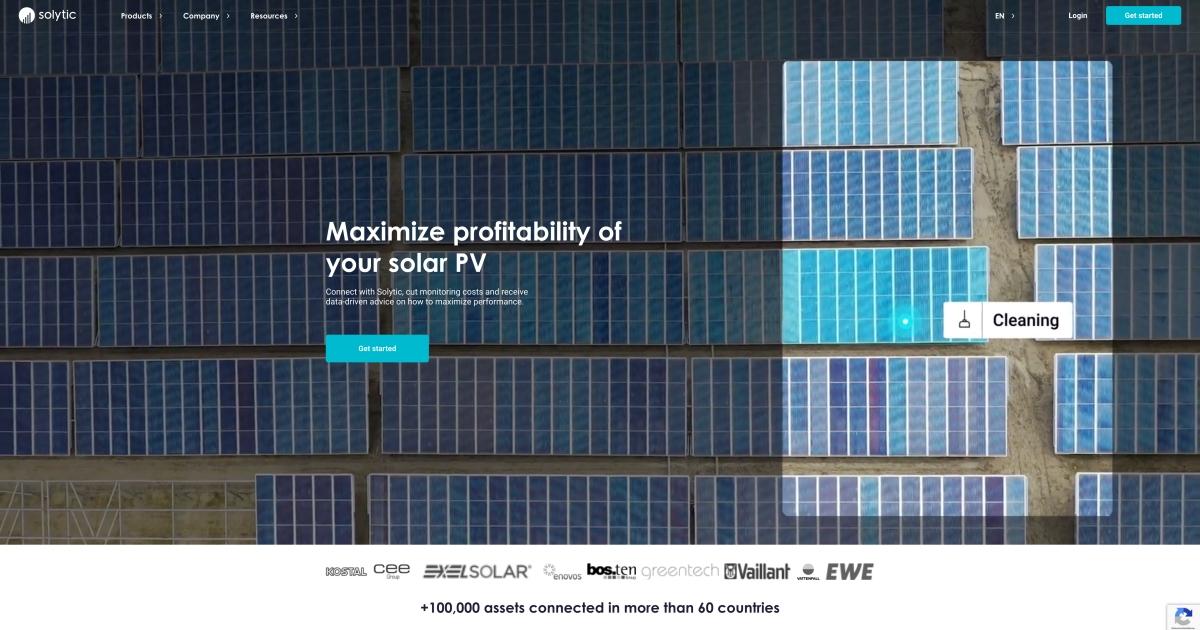 Moreover, Solytic offers completely transparent communication with its audience, making clear the specific tools within its monitoring technology that you'll have access to (solar energy usage and portfolio management, error detection, AI analysis, and daily performance, to name a few!).
This extensive and clear break-down of what their technology offers you is coupled with a fantastic blog that gives its audience even more information on how their PV monitoring system is the best out there. The Solytic team is so confident in their technology that they offer a comparison tool so customers can investigate their competitors and be assured that Solytic is the best solution.
Although the economic world still has a ways to go to achieve sustainability in every corner of the globe, there are so many examples of CleanTech businesses doing it right, with the number growing by the minute.
Are you a CleanTech business looking to nail your content marketing strategy? Check out our free Growth Audit or learn more about how you can optimise your content.