If you regularly engage in inbound marketing and inbound sales, you will have certainly come across the flywheel before. The flywheel idea initiated by HubSpot raises the inbound methodology to a new level. It replaces the conventional sales funnel and creates the conditions for faster and more sustainable business growth.
We have undoubtedly learned this to be the case from our own experience. Since our agency's inception, we have focussed on organic growth according to the flywheel principle – long before the flywheel concept was introduced. The idea is rather simple: Happy customers create momentum that generates additional business with your existing customers. On the other hand, happy customers gladly recommend your business to new clients. The WOML dream (word-of-mouth leads) comes true! You know the flywheel is in full swing when your sales process begins to spin pretty much by itself.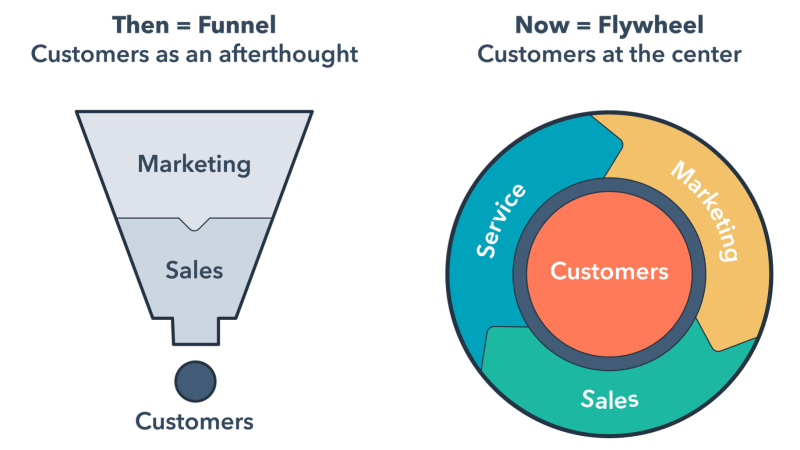 The sales flywheel replaces the sales funnel (Source: Harvard Business Review)
By the way: If you are interested in a small flywheel refresher, have a look at the following HubSpot video. It explains why the conventional sales funnel is a dying species and why the flywheel approach creates the conditions for healthy and sustainable growth.
Refresher: Why growth businesses need the flywheel (Source: HubSpot)
Prospecting Gives the Flywheel Wings
Let's verify how well the flywheel principle works by considering these two figures gathered from our agency:
69.2% of our customers were acquired on the recommendation of one of our existing customers.
80.9% of our agency turnover at Svensson & Friends is generated according to the flywheel principle.
So far we have enjoyed lots of success with the inbound methodology and the flywheel approach. However, the flywheel does reach its limits at some point. Or, to put it another way, it sometimes needs a bit of a boost. It wants to be fed with new prospects. This becomes particularly relevant when the company's own growth ambitions increase. After all, purely organic growth through upselling with existing customers and unsolicited WOMLs from customers to customers may no longer be sufficient to achieve your desired growth targets.
This is where active prospecting comes into play. We give the flywheel extra momentum by actively contacting and engaging with warm leads. Inseparably linked with modern, state-of-the-art prospecting strategies is the name of a person that every inbound marketing and sales professional will have come across: Dan Tyre. As HubSpot's sixth employee, Dan Tyre is a true inbound legend who has shaped HubSpot's unique sales strategy right from the outset.
Dan shares his knowledge and experience in exclusive Pipeline Generation Bootcamps with inbound marketing agencies across the globe. We also had the privilege of participating in a Pipeline Generation Bootcamp led by Dan. In this blog post, we share eleven insights with you that have been instrumental in advancing our own sales and from which every inbound marketing and sales professional can reap the benefits.
1. Sales people that pick up the phone get the business
When did vinyl records come back into fashion? You guessed it, it was when Spotify, Deezer and Co. started to dominate the market. The same is true of telephone calls in times of endless emails and chatbots. Sales people that pick up the phone make the difference and stand out in a time when 99% of communication is through digital channels. The first step in successful prospecting strategies is the Connect Call.
2. It's not about selling, it's about offering help
As a sales employee, you should always be aware that a Connect Call will interrupt your prospect's daily routine. The last thing you want to do is to talk about yourself and your company. For this reason, prepare yourself well and give a strong positioning statement that immediately shows your counterpart that you understand their pain points. You can discover how to make an effective Connect Call here.
3. You never get a second chance to make a first impression
The first interaction with a new prospect sets the tone for the entire experience with your brand. In theory, every marketing and sales professional is aware of the importance of the customer experience. The reality, however, is that few companies, especially in the B2B environment, have managed to deliver a truly consistent customer experience from the first contact along the entire lifecycle – and the first personal contact begins with your Connect Call.
4. Cold calling is dead, long live warm calling
Sales staff that only talk about themselves and their company in the Connect Call destroy their brand. At a time when information about your prospect is readily available on LinkedIn, their company website, Google News and many other channels, it's paramount that you inform yourself about your prospect beforehand. You want to contact a warm lead, because cold calling is dead! Plan at least 20-30 minutes for research before your Connect Call. Find out here why preparing beforehand will help you create the best conditions for a successful Connect Call.
5. Get your prospect to do 90% of the talking
In a perfect Connect Call, your prospect should do most of the talking. You achieve this by asking open-ended questions such as "Why did you decide to do this?", "How did this work for you?" or "What do you think about this?" By all means, avoid asking yes-no questions! Motivate your prospect to speak freely with friendly prompts like "Exciting! Tell me more about that…". The keyword here is active listening. In this blog post you will find some very good tips on how to improve your listening skills.
6. Video prospecting boosts email conversions
Every Connect Call should be followed up by a personal email in which you summarise the most important points of the conversation as well as the next steps. Unfortunately, only 24% of all sales emails are ever opened. Video messages have proven to be a real killer application when it comes to significantly increasing open and click rates. Thanks to tools like Vidyard and Loom, personal video emails can be created in a matter of minutes. Find out about HubSpot's experience with video prospecting here.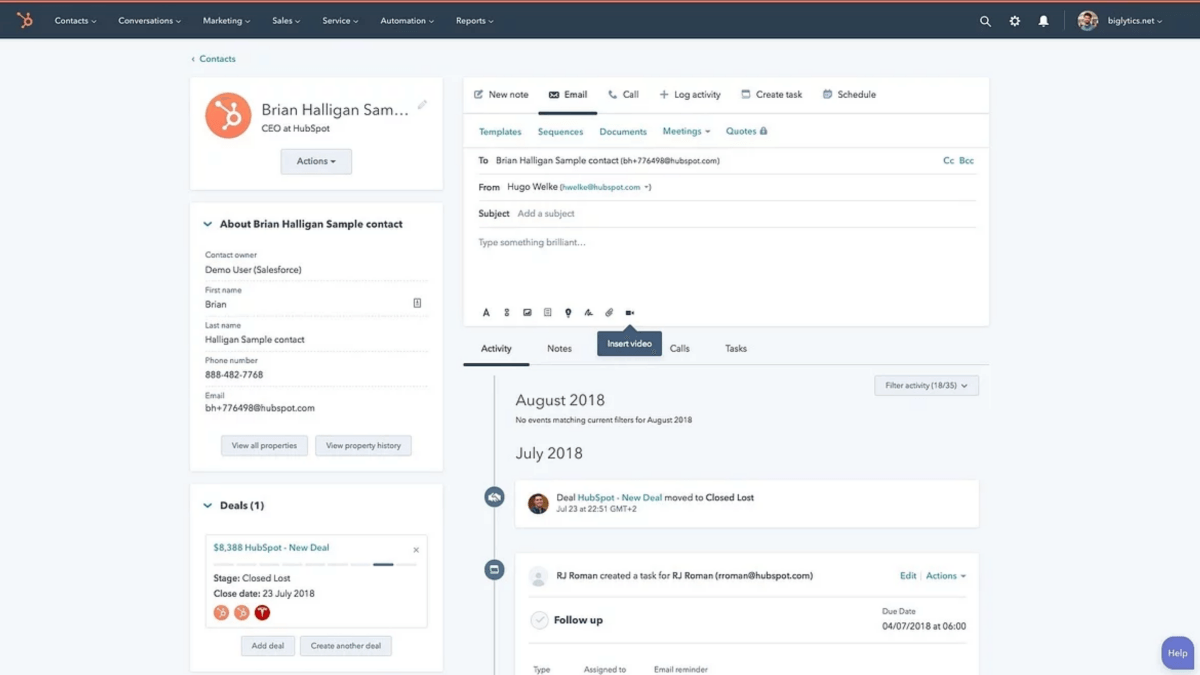 HubSpot enables video tracking via its Vidyard integration (Source: HubSpot)
7. Marketing and sales are two sides of the same coin
Have you ever heard of Smarketing? It's all about linking marketing and sales. At the end of the day, marketing and sales are two sides of the same coin. The artificial separation of them into two worlds is definitely a thing of the past, since from your perspective it is one and the same experience. In your marketing and sales you therefore need to make sure that you work with a common process and use the same data. This is the way to make the entire buyer's journey consistent and seamless.
8. Relentlessly follow through on your sales plan
Without a goal there is no sales plan, without a plan there is no sales success. Develop a sales plan in which you define your quota as well as how many prospecting activities you plan to do. Set a minimum number of Connect Calls per month and define how many Exploratory Calls should arise as a result. Measure your progress and stick closely to your KPIs. It is only then that you can determine how successful your prospecting strategy really is.
9. Build routines and automate your sales process
Prospecting consists of a series of interactions such as calls, emails and to-dos - a standard process that is almost predestined for automation. Anyone using HubSpot Sales Hub should work with Sequences. This not only drastically reduces the administrative effort, it also creates a stronger commitment to your prospecting tasks because tools like HubSpot Sequences guide you step by step. We ourselves were surprised at how quickly prospecting has become second nature thanks to automation.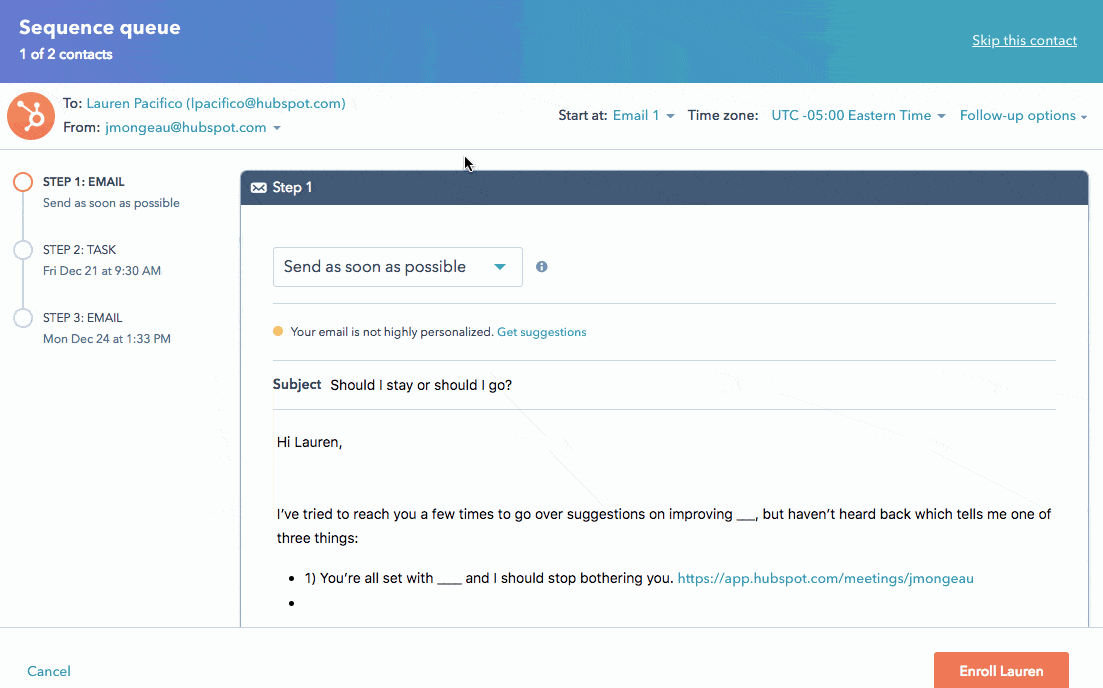 HubSpot Sequences automate the prospecting process (Source: HubSpot)
10. Improve your tactics based on data, not gut feeling
We live in the 21st century where Excel-based sales sheets and a chaotic mix of Outlook calendar items are a thing of the past. Use a sophisticated sales CRM system such as HubSpot Sales Hub and meticulously register all your prospecting activities. This gives you maximum transparency and creates data which you can use to analyse and continuously improve your sales tactics. At the same time, your colleagues will see your progress and you will see theirs – the best prerequisite for establishing a culture of best practices and shared learnings in your team.
11. Hunt like a lion, act like a human
From our own experience as an agency, we know that strategies, data and tools are indispensable enablers to ensure successful prospecting. However, the recipe for success in sales also includes a strong lion mentality – but never forget the basics of the inbound methodology when it comes to hunting for prospects. Focus on your prospect's pain points. Use buyer personas to better understand the human needs of your prospect. Put yourself in your customer's shoes when considering the marketing and sales experience. At the end of the day, business happens between people. By using the inbound methodology, business-to-business becomes human-to-human. After all, inbound really is H2H marketing and sales.