While it's not a secret that keeping your audience engaged is the essential strategy to secure leads, how to capture their attention is not a straightforward task.
One way that B2B firms are reeling in more and more clients is by using personalised tools that spit out individual feedback or provide a unique experience for each viewer – also called interactive content.
Why Use Interactive Content?
Before we get into the types of interactive content and discuss how to create interactive content, it's important to understand just how impactful it can be for the success of your business.
There's a fine line between including just the right content on your website and overloading the viewer with information. And teetering into the latter will ensure that people click away from your website just as soon as they've found it.
Finding the perfect balance is extremely tricky, but there is a great way to grab your target audience and make sure they come back for more – interactive content.
Initially, interactive features were primarily a strategy used in B2C Marketing – think L'oréal's Hair Color Quiz. However, B2B firms are now branching out in the realm of dynamic content.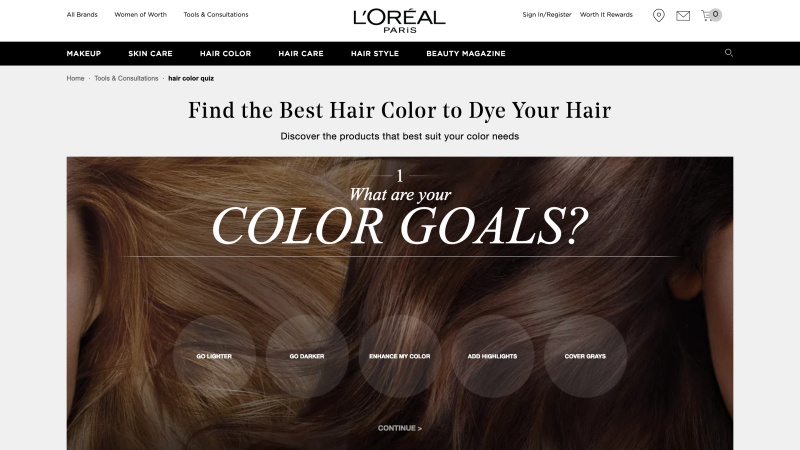 Interactive email content alone increases conversion rates by 73%. Interactive content on websites generates double the lead conversions of passive content, so it's clear that using these techniques has a very promising success rate.
Before you continue reading: Don't forget to check out our one-stop-shop guide to effective B2B Content Marketing!
I could go on and on about the advantages of B2B interactive content, but here are the main benefits:
Engage the viewer without assaulting them with information
First and foremost, interactive content is so great because it's the most straightforward way to get your audience involved and interested in your business without having to throw paragraphs upon paragraphs of text at them.
More than ever people's attention spans are incredibly short. By using content that literally centers around the idea of involving the viewer throughout online experience you are much more likely to form a connection with them.
With its impressive features, such as colors, images, or animated snippets, not only is interactive content more compelling for your Buyer Persona, but it's also much more entertaining.
It's a natural way to gain information about your audience
Previously, the go-to way to receiving contact information from your target audience and generating leads was through gated content and lead forms (i.e. fill out your details in exchange for a brochure or other service).
With interactive content, you engage your audience in a more natural, conversational way. Your viewers feel will feel more comfortable receiving information if it is in a more informal way, and if your audience is happier, then your lead count will skyrocket.
Content that is easily shareable
Any B2B marketer will know that spreading the word of their business throughout clients' networks is a major way to generate new leads. So the fact that particularly content like infographics and quizzes are easily shareable is worth its weight in gold.
Getting your content out there and having more people see it means a statistically higher chance of attracting new visitors to your website.
Increase Brand Loyalty
Providing content that engages visitors directly and improves their overall experience on your website builds your credibility amongst viewers.
By providing unique content, you're sharing your own distinct perspective on a subject and offering insight that your Buyer Persona may have never seen before. Your target audience will see you as having authority in this area of expertise and are more likely to trust you, thus increasing your chances of them converting.
Types of Interactive Content
Alright, so all this might sound great – but what exactly does interactive content mean in the B2B realm?
Contrary to what some people believe, interactive content is not all about silly quizzes and games. It spans anything from questionnaires to financial calculators, providing information that can help people both identify their pain points and find solutions for them.
While there are countless ways you can employ B2B interactive content in your virtual space, these are the five most successful techniques:
1. Interactive Media
To be more specific, interactive infographics and videos are the main types of media that hit popularity with viewers.
While the concept of infographics is nothing new, interactive infographics are a really cool way to modify your existing visuals. Masking bits of information with hotspots and gradually uncovering the information keeps viewers engaged and provides a more fulfilling user experience for them as they navigate your website.
For interactive videos, think of Netflix's Bandersnatch for B2B companies (without, you know, the criminal activity and drugs). One way to make videos interactive is by implementing "hotspots", which are tags that show up throughout a video that, when clicked on, offer additional information to the topic at hand. Additionally, you could include polls or surveys (explained below) in a clip to really maximise viewer engagement.
2. Calculators
There are a ton of different calculators, but like with the quizzes the appeal of this feature is that audiences can receive personalised content based on what the information they give you. Their simplicity also speaks in their favor - with a few clicks, viewers can find out more about things like the return-on-investment (ROI) of your services.
ROI Calculators are especially great because they provide a way for your target audience to quantitatively evaluate the benefit of your business and use these figures to persuade other involved individuals to place their trust in you.
From calculating processing speed to pricing, calculators are a great tool to use when trying to actually secure leads.
3. Self-Evaluators
While a little more time-consuming than the previous two types of interactive content, self-evaluators (like quizzes) give you insanely valuable information about your clientele while also saving you a lot of time.
Encouraging viewers to assess the current solutions they have in place and the elements they desire in an ideal marketing strategy can tell you what your Buyer Persona is looking for. It gives you pointers on what to offer potential clients. Secondly, they force your audience to be aware of the flaws in their current systems and open up the possibility to offer your services instead.
4. Surveys and Questionnaires
Similar to Self-Evaluators, polls and similar features help you gain information about your audience and what they're looking for. Unlike the previous type of interactive content, however, surveys and questionnaires are much less invasive and a lot more efficient, and therefore even likelier to receive high click rates.
That means that while you might not be receiving the most detailed, in-depth feedback about your audience's pain points and their business' current state or specific needs, you'll get a ton of responses on broader topics.
5. Quizzes
Fun quizzes like "What dog breed would you be" and B2B quizzes are definitely not the same thing, so it's essential to understand the difference. Marketing quizzes provide an educational rather than entertaining experience by breaking down bigger concepts like Content Marketing Strategy into more easily digestible bits (for example, quizzing people on which of their strategies needs help).
Quizzes can tell people clear steps on how to solve a problem or find more information about an area of your business. Not only that, but the results of these quizzes provide you with incredibly valuable information about your demographic. What their concerns are, what they're looking for, and depending on the click rate of the quiz, what parts of your website are most successful and attract the most viewers.
This type of interactive content works insanely well because it challenges your viewers to answer questions and receive personalized results in exchange, something most people can't resist. Tailoring the quiz to the services you offer ensures that your content stays focussed and keeps your audience interested.
Interactive Content Marketing Examples
Want to see some great interactive content ideas in action? Here are three examples of people that are doing it right.
1. HubSpot: ROI Calculators
It's not surprising that the leading firm in Inbound Marketing features stellar interactive content. HubSpot has an ROI calculator that's extremely simple and user-friendly, and enables you to quantify the potential ROI of including their software in your content marketing strategy.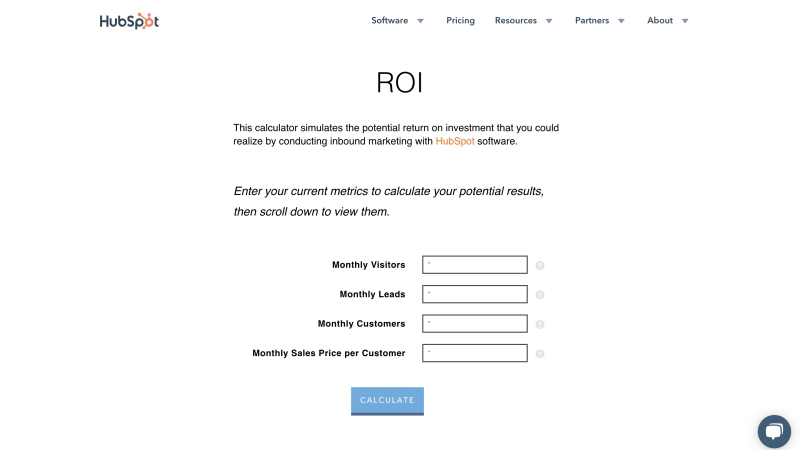 Not only are the results instantaneous, but you have access to your figures without ever having to speak to a sales rep.
ROI Calculator at HubSpot's Website: hubspot.com
2. IHS Markit: Interactive Infographics
With a cool interactive infographic, IHS Markit is great at attracting viewers and keeping them on their website. Their infographic on "What Private Capital Firms Need to Know About Using Spreadsheets for Portfolio Monitoring" for example shows the damaging effect of simple bookkeeping errors. A mistake on a spreadsheet can cost you up to $6.2 billion, as it did with JP Morgan Chase.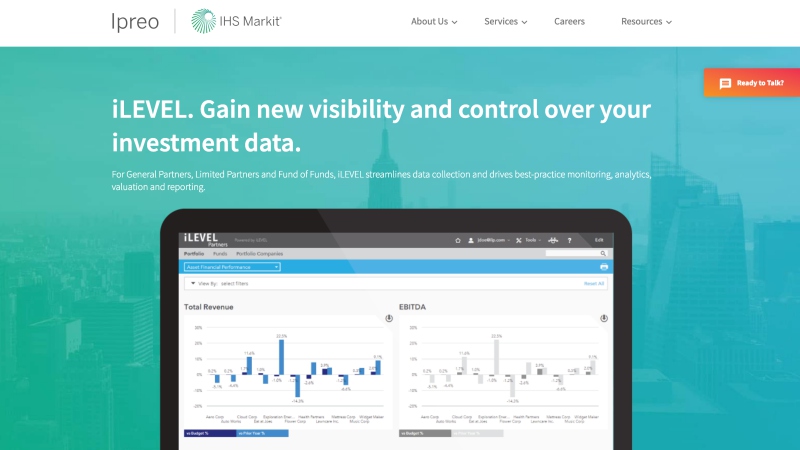 The infographic then continues with other statistics, providing a seriously engaging way of informing people about a topic.
Interactive Infographics at IHS Markit: ipreo.com
3. Liveperson: Self-Assessment
Liveperson incorporates a quintessential millennial activity that we're all guilty of into their content – selfies!
The American technology company's prompt to "Snap Your Digital Engagement Selfie" is a grand slam in increasing viewer engagement. This self-evaluator gives an audience the chance to consider what's really going wrong with their business, and what they can do to improve their business' growth.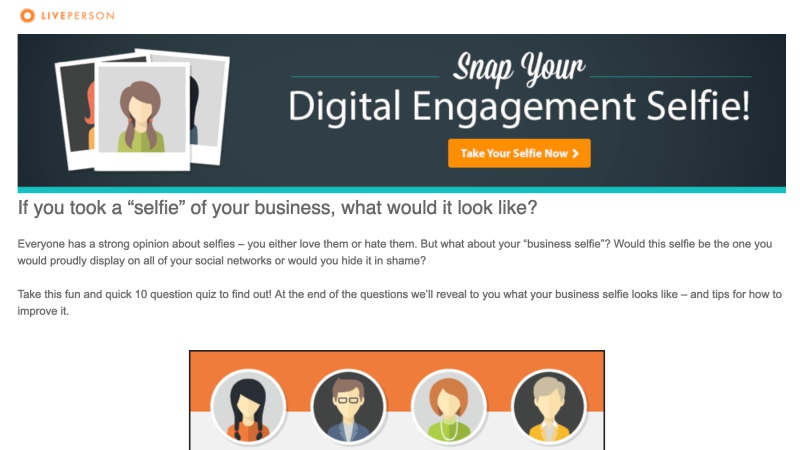 Liveperson uses the participants' responses to identify pain points, educate readers on the options available to them, and offer valuable feedback brands want to know about themselves. Moreover, the content comes with fun caricatures and bright colors that are sure to keep you not only informed, but entertained.
Self-assessment at Liveperson: liveperson.com
And there you have it: interactive content in a nutshell. While some of the main strategies were listed here, there's no limit to the different ways interactive elements can be built into your website. The most important thing is that your audience stays engaged and willing to place their trust in your business.
For more things B2B Content Marketing, check out our B2B Content Audit Handbook that'll tell you just about everything you need to know about this essential marketing philosophy. Or take a look at our free Inbound Marketing Audit!