The world of inbound marketing is fast-paced and constantly evolving. Those who want to participate and contribute are always looking for new methods and strategies being practiced in the industry. Reaching for a book – just like in college days – can be an essential part of this!
Here we introduce you to 11 must-reads about inbound marketing that should be on the office bookshelf of every marketing manager who appreciates quality content and inbound marketing strategies.
Ryan Holiday's "Growth Hacker Marketing" is ideal for beginners and those who want to develop their marketing skills further. The presented strategies and tactics will help any marketing manager grow his or her business and master the art of growth hacking.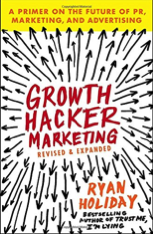 "All Marketers Are Liars" is the indispensable marketing classic by Seth Godin. As a successful marketing manager, you shouldn't just talk about the features and benefits of your product. Tell a story – preferably one that we want to believe. Customers long for product and brand stories that they want to be part of and call their own.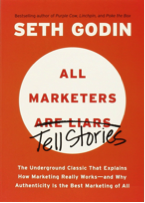 3. UnMarketing by Alison & Scott Stratten
If you don't want to go under in the fierce competition of the social media pool, you should always have this book with you as a lifeline! "UnMarketing" by Alison and Scott Stratten takes you on an interesting journey to discover why traditional marketing approaches no longer work and how to successfully build your customer base in the age of Facebook and Twitter. As Einstein once said, "Insanity: Doing the same thing over and over again and expecting different results." It's time for UnMarketing!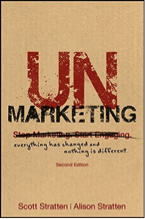 This groundbreaking guide to the future of marketing has become an international bestseller that has sold over 300,000 copies and has been translated into more than 25 languages. With the strategies presented by David Meerman Scott, you'll reinvent the way you conquer new markets and grow your business. The book introduces you to novel methods that will make you far more successful at using social media than those who are inflexible and stick to old methods.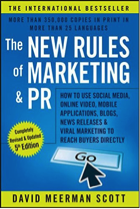 5. Ask by Ryan Levesque
The author of this revolutionary book, Ryan Levesque, is celebrated as a conversion genius by notable marketing executives. In this tell-all book, he turns everything you thought you knew about customer surveys and market research on its head. You'll discover how Ryan Levesque developed his proven system for creating survey-based, customized sales funnels. And you'll learn how to successfully implement the same system in your own business. Absolutely worth reading!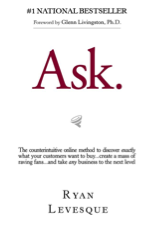 "Know Your Customer" is a business mantra that is as old as marketing itself. But in the digital age, many forget this timeless truth. In "Buyer Personas," you'll learn how to create successful personas and design the process you'll use to conduct individual interviews with customers to understand their thinking and buying decisions. Only then will you be able to create authentic profiles of real potential buyers.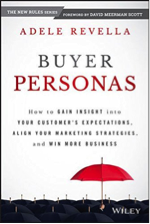 7. Influence by Robert Cialdini
This classic by world-renowned psychology professor Robert Cialdini is one of the most important books on influence ever published. After reading this book, you'll never say "yes" again when you actually mean "no." You'll learn about six universal principles that will make you a skilled influencer – and ultimately help you understand how marketing works. A perfect read that is gripping for marketing managers and people from all other walks of life!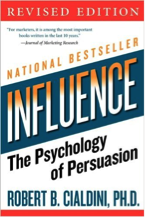 In "Content Inc.," Joe Pulizzi, one of the most sought-after content marketing strategists, introduces an entirely new model for business success. First you build a target group and content – whether in the form of a blog, podcast or website. This gives you the opportunity to then mobilize an already loyal fan base. Joe Pulizzi's "Content Inc." will teach you how to successfully position yourself in your niche and develop content as popular as that of an already established business.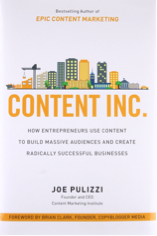 9. Content Rules by Ann Handley and C. C. Chapman
In today's digital age of blogs, YouTube, Facebook, Twitter, Google+ and other platforms, you have a wealth of opportunities to tell the story of your product and your business, with the goal of attracting a large fan base and customers. This book can help you find your bearings in the social media jungle and offers guidance on creating engaging web content and e-books. A nice fundamental work with practical relevance!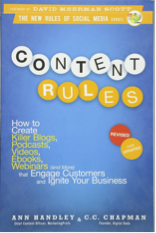 10. Meaningful by Bernadette Jiwa
According to "Meaningful" author Bernadette Jiwa, many brands miss the opportunity to focus on their customers and their actual desires and needs. Instead, companies try too hard to sell visions about products that are appealing to the company itself, but aren't relevant for the target group. In this book, you'll learn key strategies of becoming a successful startup founder or leader in a well-established business by inventing products that solve real problems people experience.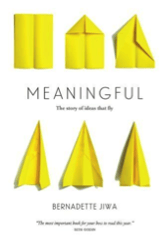 A perfect book for people with writer's block and a step-by-step guide to rapid success! In "Everybody Writes," marketing veteran Ann Handley provides expert guidance and insights into the process of content creation – from writing the content and implementing the right formats right through to publishing. A very useful and practical read that will help you quickly achieve results!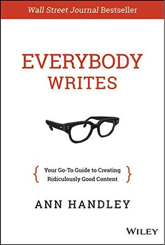 Extra Tip: Inbound Marketing by Brian Halligan & Dharmesh Shah
Brian Halligan and Dharmesh Shah, the founders of HubSpot, created a pretty hands-on masterpiece. It is a small bible about the inbound methodology helping companies to create remarkable content and landing pages that convert.