Are you an inbound marketing pro, or have you just started navigating the increasingly digitalised world of marketing? No matter your level of expertise – there's a conference for you.
Thousands of digital marketing conferences covering all kinds of subjects were held this year, and the conference world isn't showing any signs of slowing down in 2019.
Are you looking for the latest events of 2020? Then you should continue here to our latest selection of inbound conferences.
Much like the events from the past 12 months, the upcoming conferences cater towards all kinds of audiences to make sure that you can find something that's tailored to your interests.
Below are the 10 biggest digital marketing events of the coming year, in chronological order:
1. SMX
When: February 11th – October 22nd 2019
Where: Various locations throughout Europe and North America
Website: marketinglandevents.com/smx
SMX, or Search Marketing Expo, is a conference specialised in investigating SEO and SEM tactics, the biggest and most powerful form of digital marketing.
Since its debut in 2007, SMX has helped thousands of marketing practitioners succeed with actionable tactics through conference sessions and training workshops. Among many other benefits, SMX attracts leading brands including Google, Bing, and Amazon, and guarantees a safe and enriching learning environment for all.
And there's a bonus; if you attend a SMX conference, you get an official Certificate of Completion!
2. SXSW
When: March 8th – 16th 2019
Where: Austin, TX
Website: sxsw.com
One of the more creative events on this list, SXSW is a combination of what's next in the worlds of film, culture, music, and technology.
The organisation hosts one huge conference that spans 25 tracks of programming, so that you are able to venture into those areas that are relevant to you.
Visit their website to browse all of the different subjects they have to offer.
3. B2B Marketing Expo
When: March 27th – 28th 2019
Where: ExCeL Exhibition Center, London
Website: b2bmarketingexpo.co.uk
Hear from Marketing Directors, CMOs, Heads of Marketing, Heads of Advertising, Agency Marketing Professionals, Creative Marketing Directors, and Digital Marketing Directors at this special digital marketing event.
Buying a ticket to the B2B Marketing Expo opens the door to seminar sessions that are designed specifically to cover every aspect of the industry.
Whether you're a veteran or a startup, you're guaranteed to find the piece of advice that will take your strategy to the next level.
4. MTEX
When: March 27th – 28th 2019
Where: ExCeL Exhibition Center, London
Website: marketingtechexpo.co.uk
While MTEX runs parallel to the B2B Marketing Expo, the focuses of the two conferences are quite different. Unlike its competitor, MTEX hones in on the technological aspect of digital marketing and offers insights into cutting-edge tech strategies that will help your business succeed.
MTEX features 700 exhibitors and 500 seminars to create an enriching learning experience just for you.
5. Affiliate World Europe
When: July 8th – 9th (AWE) // July 10th (FBML) // July 11th (ECML) 2019
Where: Fira de Barcelona Montjuïc, Barcelona
Website: affiliateworldconferences.com/europe
Described as a global audience of the industry elite, Affiliate World Europe and its related events give you the chance to hear from influential speakers about their experiences at talks and panels, and be able to speak about your own at networking events.
The conference provides a variety of channels for making connections and garnering key takeaways for your business. One of the key aspects of the conference is the Market, the "social hub of the conference", where over a hundred companies are represented, giving industry leaders the perfect setting to catch up, make deals, and forge connections.
And if that's not enough, numerous other talks and mixers are bound to keep you busy!
6. MozCon
When: July 15th – 17th 2019
Where: Washington State Convention Center, Seattle, WA
Website: moz.com/mozcon
MozCon is a three-day, one-track conference full of forward-thinking, tactical sessions in SEO, growth marketing, the mobile landscape, analytics, content marketing, and more.
At MozCon you can connect with a community of industry leaders, chat with the speakers and Moz staff, and, according to the website, "pick up some cool swag, and even get a hug from our friendly robot, Roger." Speaks for itself!
7. Content Marketing World Conference and Expo
When: September 3th – 6th 2019
Where: Huntington Convention Center of Cleveland, OH
Website: contentmarketingworld.com
The aim of the Content Marketing World Conference and Expo is to inspire you to create your own "epic" content marketing, network with "the best and the brightest" in the content marketing industry, build your team, and develop your personal skills.
8. INBOUND
When: September 3rd – 6th 2019
Where: The Boston Convention & Exhibition Center, 415 Summer Street, Boston, MA
Website: inbound.com
Hosted by HubSpot, the pioneers of the Inbound Marketing methodology, INBOUND is a community of people who are passionate about marketing, selling, and delighting customers in an inbound way.
The annual event and year-round media platform educate hundreds of thousands of people so that they and their businesses can grow better.
This is THE go-to conference for Inbound Marketing, so if you're unsure about which ticket to splurge on and are interested in the Inbound philosophy, this is definitely the one to go with. And as a special deal for our community and followers, we'd love to share a 25% off discount code: HEADTOINBOUND19 – a big thanks to our friends at HubSpot!
9. DMEXCO
When: September 11th – 12th 2019
Where: Cologne (see website for more details)
Website: dmexco.com
Why Digital Marketing Expo & Conference? The website keeps it short and sweet: attendees gain inspiration to broaden their perspective of the industry; they experience innovation in digital marketing; they can further their education in an engaging and exciting way; discover new trends in the market and keep ahead of the masses; and obtain an in-depth understanding of future technologies.
10. Web Summit
When: November 4th – 7th 2019
Where: Altice Arena & Fil, Lisbon
Website: websummit.com
Web Summit is an Irish company that hosts events all over the world, gathering together the founders and CEOs of technology companies, fast-growing startups, policymakers and heads of state to find out what's next in the world of technology.
Described by Forbes as "the best technology conference on the planet", this is certainly a golden opportunity. And moreover, they offer a 2-for-1 discount code!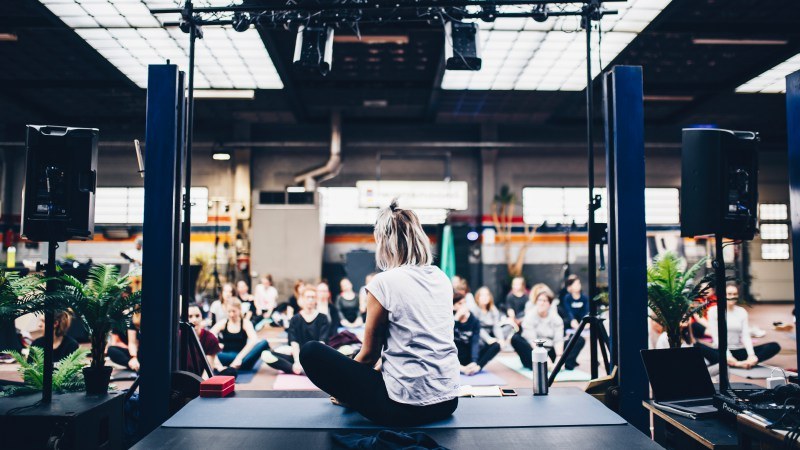 Can't Get Enough? More Inbound Marketing Events
Still haven't had enough, or maybe the big conference world isn't for you? Worry not, there's countless more options on how to get smart about digital marketing. Here are some more small-scale conferences that might tickle your fancy:
Savage.Z
When: January 30th 2019
Where: Forum Factory, Berlin
Website: z.savagemarketing.io
At Savage.Z you'll gain practical tips on engaging with the Millenial and Gen Z generations. Diversity, purpose, authenticity, speed, hypersegmentation, and personalisation are at the forefront here.
Digital Summit
When: February 11th – October 22nd 2019
Where: Various locations throughout the USA
Website: digitalsummit.com/conferences
The Digital Summit convention consists of over 65 digital marketing sessions in mission-critical topic areas, including Content, Data and Analytics, Brand Storytelling, and more!
SM:ILe Communication: Big Data Marketing Day
When: February 14th & 19th 2019
Where: municon Tagungszentrum, Munich // Austria Trend Hotel Schloss Wilhelminenberg, Vienna
Website: marketing-on-tour.de/konferenzen
Taking place in both Munich and Vienna, this German-speaking conference is all about structuring and analysing data and using it to implement efficient marketing models.
The strategies developed on Big Marketing Day can be seen in world-famous companies such as YouTube, ebay, and UnityMedia.
B2B Marketing Exchange
When: February 25th – 27th 2019
Where: Hyatt Regency Scottsdale, AZ
Website: b2bmarketing.exchange
B2B Marketing Exchange's mission is to empower your team by spotlighting all that's new in B2B, and not only get you inspired but prepared to tackle the latest trends, market conditions, and buyer realities.
With over 100 speakers, the conference covers a broad range of subjects sure to prepare you for B2B communications.
Pubcon
When: March 5th – 7th 2019
Where: Fort Lauderdale Convention Center, FL
Website: pubcon.com/pubcon-florida-2019
Pubcon offers the latest insights and techniques in SEO, PPC, social media, content marketing, paid social, local search, Google Analytics, and more, to help you revamp and improve your online marketing strategies.
At the convention you can network with fellow attendees and interact with expert-level speakers to find answers to your burning questions.
Search Love Conference
When: March 4th – 5th // June 10th – 11th // October 14th – 15th 2019
Where: San Diego // Boston // London (see website for more details)
Website: distilled.net/events/searchlove-london
At Search Love, you will explore critical online marketing tools, from analytics and optimization to content and paid promotions.
This is another great conference to attend if you're interested in the principles of Inbound Marketing, because Search Love gives you the opportunity to learn about Conversation Rate Optimisation, Content Strategy, and more.
Advanced Search Summit
When: April 4th – 5th 2019
Where: Napa Valley, CA
Website: advancedsearchsummit.com
With visitors from brands such as Disney, Google, and GAP, this event delivers advanced SEO/SEM tactics to help propel you and your business forward. At Napa, industry experts share their latest tactics on how to get ahead of your competition.
The conference includes ample time to connect professionally and personally with other attendees, sit with the speakers, engage with sponsors over amazing food, and discuss current digital marketing trends with a glass of some of Napa's premier wines.
This event will provide you with a truly one-of-a-kind experience!
ContentTECH Summit
When: April 8th – 10th 2019
Where: Marriott Marquis San Diego Marina, CA
Website: contenttechsummit.com
ContentTECH Summit's primary focus is learning how to make effective use of content and technology to allow you to embrace the chaos and unpredictability in marketing.
At the conference you'll learn to use your strategic efforts to create, manage, deliver, and scale your enterprise content and provide your customers with optimised digital experiences.
brightonSEO
When: April 11th – 12th 2019
Where: Brighton Center, Brighton
Website: brightonseo.com
This biannual search marketing conference and training event offers dozens of conference talks about Search Engine Optimisation and more to provide you with a well-rounded knowledge base on digital marketing.
A cornerstone of these events is networking, and brightonSEO extends past the conference room – with various after-work parties, you're sure to meet a ton of new people!
Content Marketing Conference
When: April 16th – 19th 2019
Where: Boston Westin Waterfront, Boston, MA
Website: contentmarketingconference.com
With a particular emphasis on content marketing, this conference is the key to creating targeted content. With these skills in your toolkit, you're bound to increase traffic to your website and build up your business.
Social Media Marketing Festival
When: May 1st – 3rd 2019
Where: 28 Great Russell Street, London
Website: socialday.co.uk
Over 30 sessions are being offered to attendees over the three days to allow you to take away all the key skills you'll need to become an effective social media marketer.
Brands like McDonalds and Coca Cola are regular attendees of the event, so where better to expand your network than at the Social Media Marketing Festival?
Digimarcon
When: May 9th – November 21st 2019
Where: Various locations throughout the USA
Website: digimarcon.com/events
These digital marketing conferences allow you to hear from the most audacious and provocative speakers in the digital marketing industry.
During the event you can gain insight into emerging strategies, the latest innovative technologies, and best practices, and the conference also provides a platform for you to network with thought leaders, build your network, and collaborate with your peers.
With content that spans 24 different topics, you're sure to find one that strikes your interest.
International Search Summit
When: May 20th 2019
Where: ETC Venues 4-12 Norton Folgate, London
Website: webcertain.com/international-search-summit/london
Held in various other cities too (including Munich, Boston, and Barcelona), International Search Summit offers a range of expert speakers who share insights, tips and tactics for global campaigns and leave you with a clear vision of how to take your international efforts to the next level.
CMA Live
When: June 6th 2019
Where: Edinburgh
Website: cmalive.co.uk
Described as one of the UK's leading content marketing, social media, and business growth conferences, this event is perfect for inbound marketers just starting out and looking to expand their skills and learn more about this new marketing methodology.
Learn Inbound
When: August 15th – 16th 2019
Where: The Mansion House, Dublin
Website: https://learninbound.com/

Learn Inbound brings together the brightest minds in the digital marketing industry to share next-level tips, tactics and strategies in SEO, PPC, CRO, Analytics, PR, Content Marketing and Growth Marketing.
From tactics and tools to campaigns and case studies, talks held by 20 different industry leaders will make you both more efficient and more effective.
Content Marketing World Conference and Expo
When: September 3th – 6th 2019
Where: Huntington Convention Center of Cleveland, OH
Website: contentmarketingworld.com
The aim of this convention is to inspire you to create your own epic content marketing, network with "the best and the brightest" in the content marketing industry, build your team, and develop your personal skills.
Each conference might have a different focus, but they all share one common view: it's an irreplaceable experience that will expand not only your knowledge, but also your network.
You'll leave the event enriched, empowered, and excited to implement your newfound tactics. Find the conference for you today!