Day in and day out, more than five million blog posts are uploaded to the internet. With so much content being churned out by the second, producing something memorable is the only way for you to grab hold of potential visitors, prospects and leads.
Setting up a strong content marketing strategy is essential for appealing to your Buyer Persona, but how do you keep them focused on you instead of turning to your competitors?
The answer for how to stand out from the crowd is putting forward content that is attention-grabbing, distinctly unique from what everyone else is doing, and serves to solve a substantial problem that your audience faces. Here's where to begin.
1. Run Analytics
Before you can dive into a new blog post or whitepaper, looking into how your existing content is performing can give you a valuable hint which topics and formats are most liked by your audience.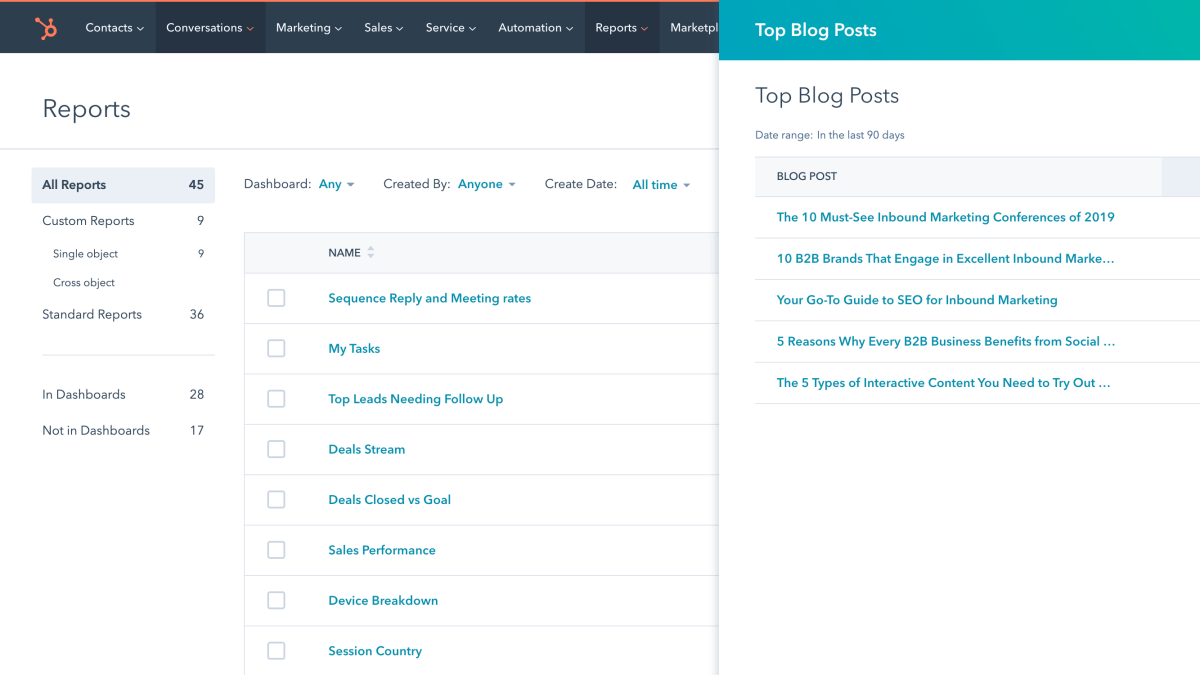 Reports in HubSpot are a great source of information helping you understand how your content is driving traffic and conversions.
Qualitative information such as the click-through rate or number of views, shares, and comments will point you in the right direction for your new content and tell you what to stay clear of.
2. Do Proper Research
While looking through search engines is a good place to start, the investigation needed to discover buzzworthy ideas goes further than typing something into Google. Keyword research will tell you which terms are getting the most traffic, giving you an inside look into what people within your target audience are looking for.
Research tools such as SEMrush can help you pinpoint the topics at the tip of prospective leads' tongues and get ahead of the game before dozens of competitors deliver their take on that idea.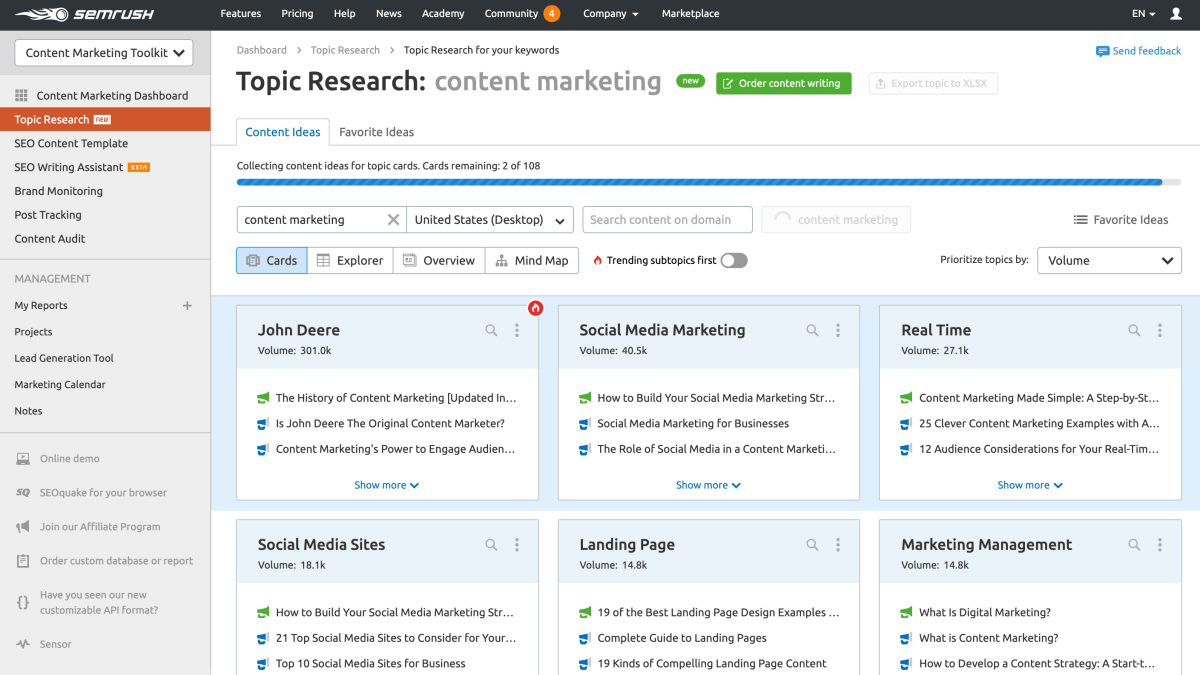 The SEMrush Content Marketing Toolkit helps you discover content ideas for a topic of your choice.
3. Look to Your Followers
Often times, the right answer is right under your nose. Tune in to what your followers are saying – they might be telling you exactly what they want!
This can range anywhere from comments they leave directly on various social media platforms to their background, interests, and online behaviour (remember to look at the type of people that are following you in the first place).
Making a poll on platforms such as Twitter is also an efficient way to decide which ideas are the most interesting for prospective clients and weed out the bad ones.
Your audience will often indirectly or even directly steer you in the right direction, so make sure to always keep your Buyer Persona in mind.
4. Modify Existing Content
The common misconception with modern marketing is that you have to continuously invent brand-new concepts that no one has heard of before. But let's be realistic – with so much information being uploaded every second, the odds of us coming up with something profoundly different are quite low.
The solution? Build upon what's already there!
Expanding on existing content means that the way you say it will make you stand out. Coming up with captivating ways of delivering information, such as through unique visuals, video, or the type of language you use, is what your clients appreciate. Especially bridging between different mediums (embedding a video within an article, for example), can further increase your engagement within your audience.
Another way to reinvent your content is showing viewers a new perspective on the same concept, either by finding a connection between two discrete ideas you've already covered or by creating cluster content. Both of these techniques will promote your business' growth and help you attract more prospective leads.
5. Caricature Thinking
So-called "Caricature Thinking" follows along the same lines of improving upon not what you say, but how you say it. Much like in a physical caricature drawing, a person's features are exaggerated. Thus, caricature thinking serves to exaggerate those attributes that are unique to your business, and can help you stand out among the noise.
Whether this is your motivation for selling your product or service, your brand's unique backstory, or something important that has happened to your business over the years, pinpointing that one thing that makes you special and letting it shine through the content that you produce will allow your audience to stay interested in what you have to say.
6. Look to Your Competition
It's always a good idea to know what your competitors are doing in order to keep up. Being ahead of the game is your ticket to knowing how to market to your target audience and get them to stick around for a long time.
Thus, it's okay to look to others to kick start the creative process – you can be inspired without copying them, and synthesising new relationships between existing ideas is one way.
Secondly, signing up for newsletters can open up doors for you to gain a fresh outlook on your content, even if they're from businesses that are unrelated to your field but inspire you on a personal level. After all, your audience can tell if you really care about what you're doing; make sure you nurture your passion for your business and think outside the box.
7. Related Topics
Searching for topics related to what you've already discussed can help establish natural pathways between ideas and lead your audience on an intellectual journey, instead of publishing lots of random, disjunct content.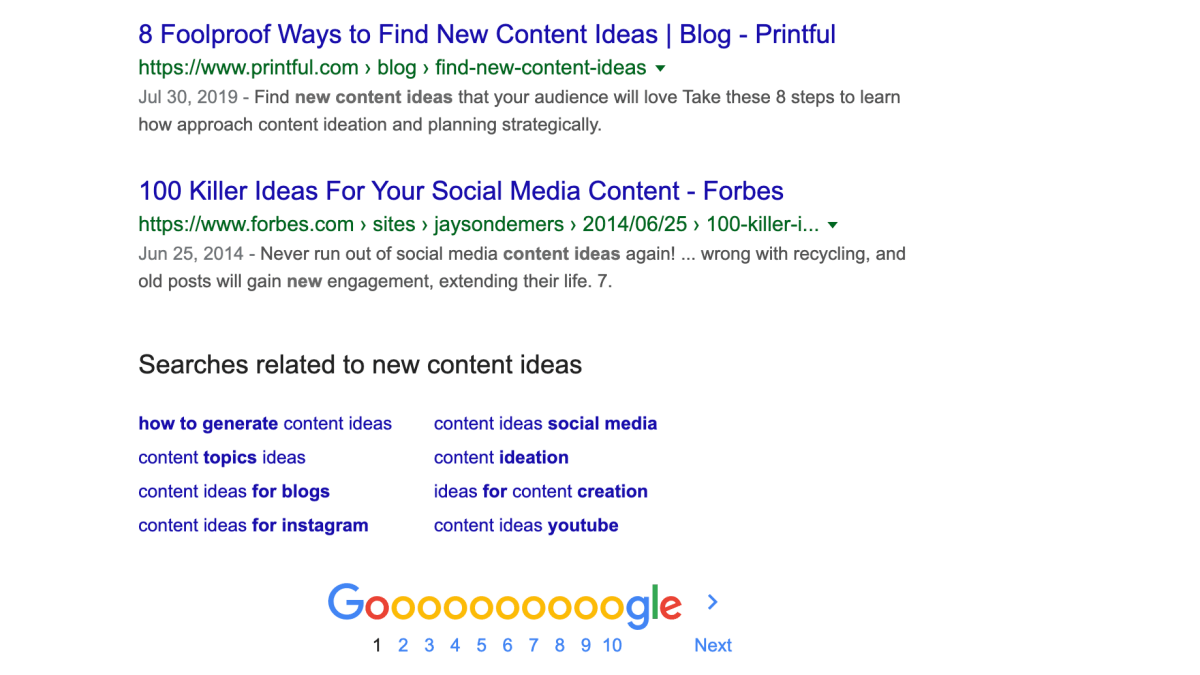 Google's related searches help you identify frequently searched terms used by other people.
A quick place to start are the Google search recommendations (PICTURE google search bar with recommendations), which appear when you type in a query into the search engine. Likewise, the "related results" at the bottom of the page contain useful pointers for similar topics that your audience has searched for.
The sidebar shown on the YouTube interface during a video can also provide some inspiration for future topics within your business' industry.
8. What's Hot
Finally, staying up to date with current trends will keep you relevant in the eyes of your prospects. Reading up on recent events, both in the realm of marketing or the world in general, will tell you in which direction to take your marketing efforts in and which topics to cover in depth or stay far away from.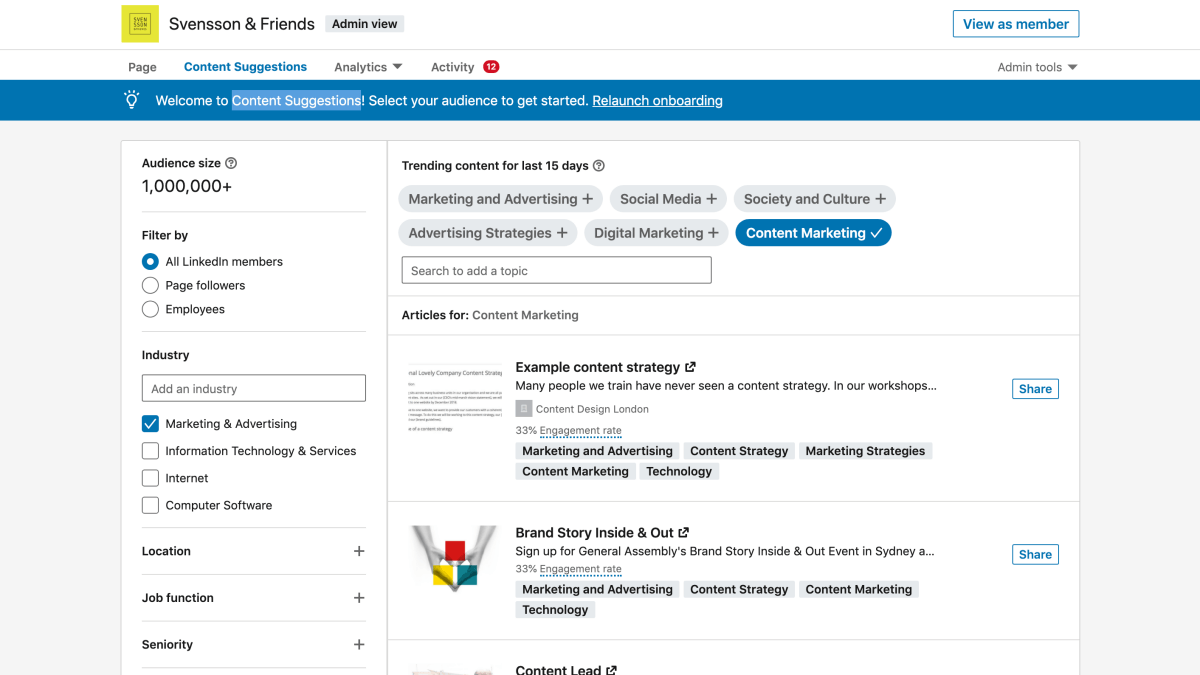 LinkedIn Content Suggestions are a great way to identify content that resonates well with your buyer personas and target audience.
You can turn to hashtags and things that are trending on platforms such as LinkedIn, Twitter or Instagram to find out what people are interested in at the moment.
Keeping an Open Mind
Overall, the world of content marketing is extremely dynamic and buyers' preferences are changing constantly. That's why flexibility is one of the most valuable and vital attributes for thinking of new content ideas.
Find out which of these techniques work for your business and use them to adapt to the newest trends. Going in with a plan, such as knowing the scope of people you want to reach and where these prospective clients are can help you narrow things down too, making your efforts more targeted.
Svensson & Friends can help you with your content marketing and SEO to make sure that your attention-grabbing ideas also appear on people's screens. Take a look at our Content Audit Handbook or learn more about what we can do to help your business thrive!